Life lately is so busy, I feel like I'm always playing catch up with my posts. I'm lucky to get two or three posts in a week these days. My apologies - I try my best to keep up with everyone, I hope you haven't forgot about me!
Friday I had an appointment with the eye doctor - loooong overdue. I don't wear contacts or glasses or anything, but for the last 6 years I've had a problem with my right eye. The inner white part of my eye will get very red and my eye becomes painful - this happens almost every 6 to 8 weeks it seems. I have a friend from HS who is an eye doctor and she told me a while back what she thought it could be and that I needed to get it checked out. Well, I did on Friday and she was right on the money. It's called Episcleritis and, while there are many things that could cause it, I fall in the idiopathic group of reasons that I'm getting it. While it's good that I don't have any of the numerous problems that cause it, it's a pain b/c it means basically I just have to live with it and treat the symptom. Ugh!
So, I got some steroid drops from the eye doctor and when it happens I just have to use the drops and wait till it's gone again - usually about three days.
Saturday morning Michael had to go to work, so we broke out one of Emma's b'day presents that hadn't been opened since she got it in December. Now, this is a fun toy that we've nearly worn out since we opened it! Might need some new batteries - and paint - very soon!! Love spinart!
We had a blast making all kinds of color combinations! Today we actually got into again and this time with Emma & Aaron's names - I'll have to remember to get pics of those tomorrow!
We spent the first part of the day cooking b'fast, working on laundry and playing then we got dressed and ready for the day so we could leave for the Monster Jam when daddy got home! We haven't been to see the Monster trucks since we've been married so it was definitely something new for the kids. We didn't tell them where we were going either - it was a surprise till the moment we walked on the stadium floor! We got pit passes so we could get up close and personal with all the trucks! I couldn't wait to see what they thought.
After Emma told us it was awesome and that she had always wanted to go see that!! Ha Ha! I love her! Aaron loved that it was all in the dirt - he would go up to see a truck and then want to start playing in the dirt - LOL - he's all boy! They both had a great time and I'm so glad b/c it really made for a super long day. As soon as we got about a mile down the road headed home they were both out cold and they didn't make a peep till Sunday morning when it was time to get dressed and head to church! We'll definitely go back! Here are a few shots from the event!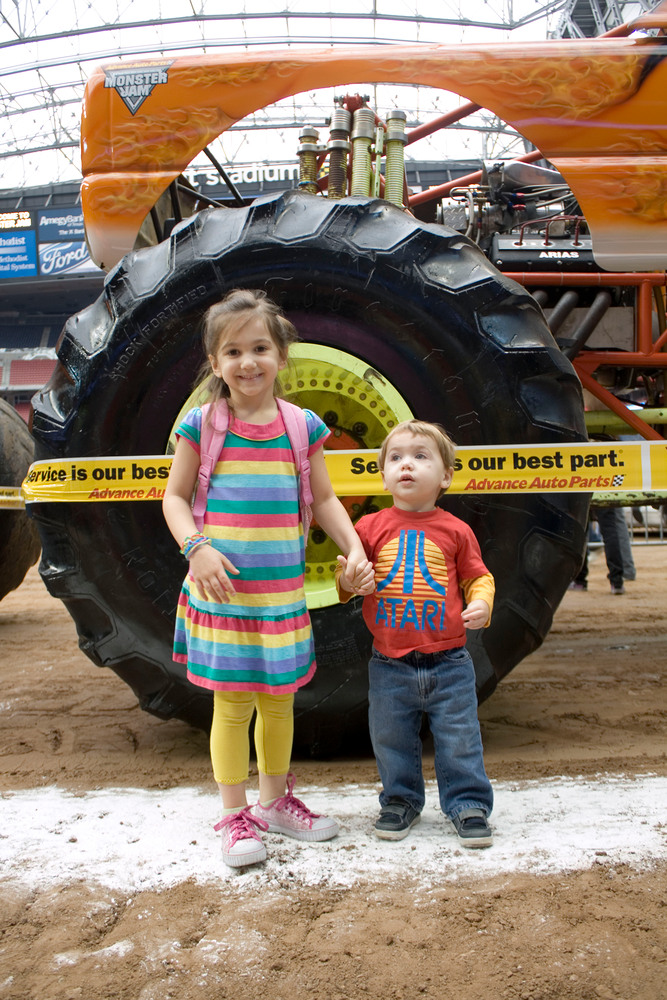 I love the expression on Aaron's face in this one! Right after Michael got him down we were told we couldn't do that - we could even get thrown out...so, of course, we didn't do it again, but saw lots of other little guys up on tires. We didn't chance it, though!!
They got to be part of the show by leaving their autographs on one of the crash cars!
and make cheers signs to hold up during the event...Emma took her coloring very seriously!
Emma got her own monster truck right on her arm, too! Can you tell who one of the sponsors were???
And, of course, what we came for - the high flying antics of the Monster Trucks! Grave Digger is always a crowd favorite and he didn't disappoint; however, one truck actually had a female driver and I think she did better than most of the guys!
Today we got up and went to church, had a meal out together and have been outside enjoy this weather most of the day! Our friends were outside while Michael was working in the yard so we pulled out the bikes and scooters and sidewalk chalk and had a good ole time! I cannot believe it's January and we were outside in short pants & barefoot with our shades on like it was Springtime - that's Houston weather, though. After we played outside we came in for dinner and to watch football - well, Michael was watching football and my babies were being so sweet sharing the Kindle and watching cartoons on Netflix - these moments make my heart skip a beat!
Love seeing this!!
I hope you all had a wonderful weekend and have a great week ahead!