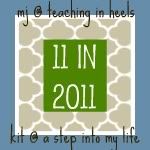 I keep playing catch-up on this challenge!!
DAY 10
I think the best part of any girls' night out event, is the OUT part!!! I love to get out of the house and have fun adult time!!! Though, being a parent any time out of the house while someone else is watching your child you're still thinking about your kid(s) and wondering if you should call and check on them!! When I go out with just the girls I like to be silly - I like to drink a little wine - I like to look at boys and talk about them! Hey, I'm married - looking & talking isn't off limits! And besides, it's what girls do when they get together! Shhhh...just don't tell the boys! I like to get dressed up...though sometimes it's just as fun to go super casual and hang out at someone's house with a good movie and good munchies to go with that wine!!
DAY 11
In 2011 I'm looking forward to life...to my kids growing & learning and constantly blowing my mind! To more dates with my hubby - to great vacations with family/friends - to hopefully losing the weight I can't seem to shed since having kids - to a stress & drama free year (have I ever told you how much I abhor drama) - to find out how my new role at work is going to develop! I love the start of any new year - I love the fresh feel it has. I like that start over feel! I look forward to making that feeling last as long as I can!
Day 1: New Year Resolutions
Day 2: Favorite Holiday Memory
Day 3: Favorite Work-Out Tips
Day 4: Best Leftover Recipe
Day 5: Places You Hope to go this Year
Day 6: Best Organization Tricks
Day 7: Favorite Memory of 2010
Day 8: Favorite Healthy Snacks
Day 9: Favorite Things to Do on a Cold Winter Day
Day 10: Favorite Girls Night Out Events
Day 11: What are you Looking Forward to in 2011