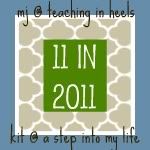 Well, I'm playing catch up b/c I missed the first 3 days of this link up...so today you get Day 1 thru Day 4!!
DAY 1
I don't make NY Resolutions anymore - I decided a long time ago that I was going to break them no matter what! I do use January 1st as a time to start over on things, though. It's a fresh start - I get to begin new projects (or set new goals for current projects)!! I don't call any goals I make resolutions, though b/c that's just setting it up for failure! I'm doing WW and I used January 1st at a day to start tracking again. I wasn't bad at all during the holidays, but I didn't track either. Luckily my weight stayed exactly the same as before the holidays start - I didn't gain at all - which is good b/c that could easily be a HUGE disappointment that could set people back! So...January 1st my WW app on my phone was back in use!
DAY 2
I have lots of holiday memories that I cherish! I loved decorating the tree as a little girl and I always remember my sister and her family coming home for Christmas & she always had fun holiday projects for us to do. I remember making different ornamanets for our tree. I also remember this one particular Santa pin that got put up with the decorations every year and every year I would find it and think how magical it was that it always turned up each year - I guess I thought being packed up in the attic it would be lost or something. I would play with the pin like it was an action figure or something and it lived in our Christmas tree and it would go on adventures and play with the other ornaments! Hey, my siblings were all grown & gone so it was just me at home when I was that age - I had a vivid imagination!! LOL!
DAY 3
I don't like to work out. Don't get me wrong - I do it and I love how I feel after, but I don't like the actual work out part anymore. I like to do short, quick work outs - so that means I have to do a lot of them! Michael comes up to my office every day at 4 and we work out together in the gym at my office. And during the day if I have time I sneak downstairs for a quick 15 minute walk on the treadmil. Hey - smokers take breaks, so why can't walkers!?!? A lot of short work outs add up to one long workout and I've read that has the same benefit - so if you're like me and don't really like the work out - if you're just ready each time for it to be over - do a lot of short workouts! Also - get a Wii!!! We just got one and we love it!! I also got the Wii Fit (I just got it so today will be the first time we try it out) and I'm so excited to use it!
DAY 4
Best leftover recipe - just about any kind of leftovers can be turned into soup! Turkey or chicken, most veggies - just put them into a pot with some broth & maybe some noodles or beans and you're done! Last night I made a yummy version of white chili! We had some last week and Michael loved it so I made my version last night - it was a hit! I cooked garlic & onions in a pot with a little olive oil - added chopped mushrooms and a can of rotel and let that all simmer a while. Then I added two cans of great northern beans, chicken stock and chicken I had previously cooked. I seasoned it with cumin, s&p, chili powder and cilantro and garnished it with tortilla strips I had toasted in the oven, a little cheese & chopped avocado. I was only missing limes & sour cream, but it was still super yummy!!
Day 1: New Year Resolutions
Day 2: Favorite Holiday Memory
Day 3: Favorite Work-Out Tips
Day 4: Best Leftover Recipe
Day 5: Places You Hope to go this Year
Day 6: Best Organization Tricks
Day 7: Favorite Memory of 2010
Day 8: Favorite Healthy Snacks
Day 9: Favorite Things to Do on a Cold Winter Day
Day 10: Favorite Girls Night Out Events
Day 11: What are you Looking Forward to in 2011