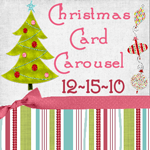 What a fantastic link up!! Thanks Faith!
I am so late getting my cards mailed out this year. I usually create my own cards every year, but through a fantastic giveaway from Shutterfly this year for bloggers, I received 50 cards for free...so I couldn't pass up on the deal!!
And I really love our cards this year - especially b/c of the two beautiful babies on them!!
I think I might be a little biased!!
And since I've missed past Christmas Card Carousels, I thought I'd play catch up with the past couple of years!
2009
2008