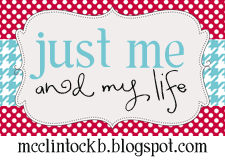 This weeks Friday Five is Random Questions! The Questions are...
1. Something you are OCD about...
I think my husband would agree that I am OCD about the way things get put up - to him as long as it's in a drawer or behind a closed door it's put up! Ha ha! He is a neat freak, but it's more "out of sight, out of mind" philosophy! Me, though - if something doesn't have a proper place I may let it sit out until I find or create one. When we buy groceries he won't even put up the dry goods b/c I want each thing on a certain shelf and I have containers that are only for certain things, too. If he puts a snack item on the wrong shelf I get irritated and have to let him know it's in the wrong spot!! This sounds like my pantry is neat and organized - actually it is organized, just not neat! There is too much stuff in there & it drive me bananas, but that's another project!

2. Your favorite quote...
One quote I've used a lot is "One man's ceiling is another man's floor, so I'll see you at the top" - I don't know where I first heard it, but when I was a single lady pre-kiddos I used that quote in things a lot. Today, though I wouldn't say it's my favorite quote anymore b/c my priorities have changed dramatically. I think now my favorite quote is from one of my professors in grad school - I was pregnant with my first child while I was in her class and she told me whenever I faced something hard I would always be able to say, "I can do this, I can do anything, I gave birth!!" I like that quote - it's true!!
3. What is the farthest you have been from home...
Egypt - to visit family and friends. Since my father is Egyptian I still have a lot of family living in Egypt.
4. Do you do a real or fake Christmas tree...
Our tree is fake - we did have a real tree one year, but I couldn't handle dealing with the mess the pine needles made and I said never again!!!
5. First blog you ever read...
I owe my blogging bug to my best friend
Elaine
. She had a blog back in 1999 and got me into it - my blog has morphed a lot, but it's always been called Daily Venting & Exclamations... I still like that title and have come full circle back to Blogger from using many other platforms including pMachine, DNN, WP - I still really like WP, but for several reasons decided to come back to blogger again.