Our week of vacation is over and we're back at work today. Had to happen sometime!
We did have a great week off, though - even through the
sad part
- it was nice to not be gone the entire time so we were able to be at home a few days and relax. Saturday night before we left Kadie had her
30th B'day/Guitar Hero party
. We had such a great time and it was so fun to dress up, too - everyone was asked to dress "rock". I was happy Michael got into it like he did - he normally hates to do any kind of costume.
We didn't head out of town until Monday morning. Emma had stayed with my parents Sunday after we grilled at their house with my sister and her husband so Michael and I were packed and back at their house early Monday morning to pick them all up. We hit the road a little after 9:00 and made it to San Antonio in record time. Our hotel was on the outskirts of town, away from the River Walk, but close to Sea World which was the point of the trip anyway. So we took our time Monday - checked in - relaxed a while - then went downtown to the market and riverwalk. The next two days we spent at Sea World. It was a perfect time to go. It was overcast so the weather was cool and it wasn't crowded at all. Right after a holiday weekend and kids were still in school. There were lots of year end field trips going on, but we didn't have to wait in line for anything really. And since we had two day passes we didn't have to cram everything into one day - when we got tired the first day we went back to the hotel a while, swam, went out for a nice dinner then just saw the rest on day two! Very relaxing way to vacation!
Emma got to feed the dolphins...
And rode her first "ferris wheel"...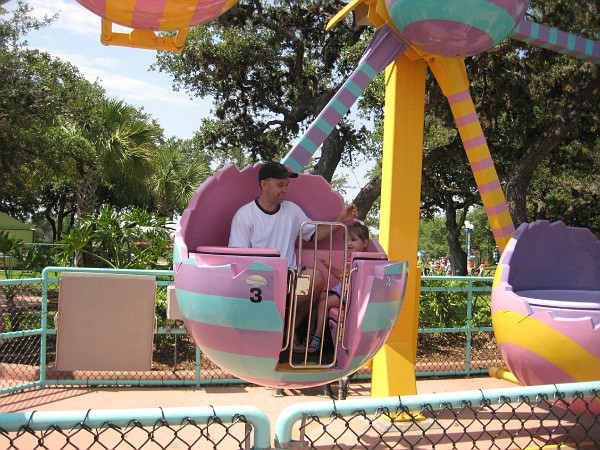 And see Shamu of course...
Shamu's Happy Harbor...
All the other pics here uploaded here...
My favorite part was the ski show! Yes b/c it was a good show, but mostly b/c Emma really got into it! I wish I had a video of her watching them. She was dancing the entire time - shaking her baby booty and twisting her shoulders!! It was hysterical!! Cute is what it was!
We came back to Houston Thursday. It was nice coming home knowing we didn't have to get everything else done that night to get ready for work the next day. We still had four more days. Which was needed, especially b/c of how sick Oreo was. Thursday night Michael had to make the sad decision about Oreo & Friday morning we had to say goodbye. We had hoped Oreo would go on his own, but it wasn't right to let him continue on when his quality of life was so bad. He hadn't walked in a few days - we were so thankful to our wonderful neighbors who took care of him while we were gone. He was started to go downhill just before we left. He was just much worse when we got home. We decided to get out of the house the rest of Friday so we went to lunch and took Emma to the Children's Museum in The Woodlands.
Saturday and Sunday were full days, too. Saturday Emma and I went to a baby shower and she stayed with my parents afterwards while Michael and I went to see Kevin Fowler. We met up with my niece and her date, Ashley and Michael's cousin and his friends. The concert was great and it was fun to go out again. Sunday when my parents brought Emma home we grilled out in the backyard. Michael cooked ribs & chicken & corn and I made Crash Hot Potatoes. Yum!
So, now it's back to work - back to our regular routine! Emma definitely needed to get back on a schedule honestly. She didn't stay up late too much really, but at her age a bit more structure and routine is definitely a good thing!