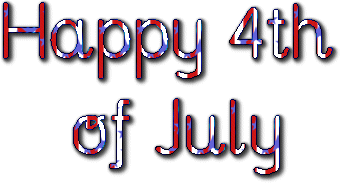 I'm working this morning...but at least I can do it from home! I had
taken a vacation day yesterday, but ended up having to go in anyway...I
had taken work home over the weekend, but need to go in on Monday for
meetings & to finish. Has anyone out there gone through an SAP
conversion at their work before? It's a bear!

At least I am home today, though. Most of the team is in the office. I
plan on having what I need to get done finished this morning and then
turning off the computer for the rest of the day!

Last night Michael bought some fireworks & we lit them with our
neighbor and their kids...all the boys had a lot of fun - including
Michael and our neighbor (the dad)! I think they enjoyed it as much as
the little ones!!! I think we're going to watch the fireworks show at
Splashtown tonight - we aren't going to be there...just across the
freeway or at our church. I don't want to fight with crowds.

Whatever you decide to do tonight to celebrate have a fun & safe holiday!!!!